Grandaddy and Me — A Genealogical Journey
A version of this article was published as: "Two Families: One Y Chromosome" in Family Chronicle - August 2006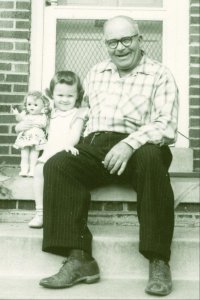 For nearly eighty years, my grandmother, parents, aunts and I unknowingly used the wrong surname. In the year 2000, we received strong anecdotal information that this was true. But not until 2005 did my family have DNA evidence to back up the family story we had pieced together. Because the Sorenson Molecular Genealogy Foundation directed us to Gene Tree DNA Testing Center, we now have that evidence.
When I was twelve years old, my church sponsored a project. Anyone who read the entire (King James) Bible within one year would receive a prize. My mother and I began to read aloud, to each other, at the rate of at least one chapter per day. Sometimes we would read for many hours, and ultimately achieved our goal. At the end of the year we received our reward. The pastor, in a blinding display of creativity, presented each of us with a new King James Bible. (My reaction: "I've already read this book!")
These bibles had been published with a family tree chart bound between the Old and New Testaments. I was very anxious to fill in my chart, and grilled my parents for information. Next on my list: My paternal granddaddy.
Granddaddy was not a tall man, but there was nothing small about him. He was very round, very brusque, a balding carpenter with a growly voice and deep blue eyes behind tortoise-shell rimmed glasses. He chain-smoked unfiltered cigarettes. He owned two lots in the city: one lot for the square, brick house he built for Grandma, and the adjoining lot for his big garden with miniature fruit trees, strawberries, and grape vines. When he wanted to make us grand-kids squeal, he would pick us up and "whisker" us, by rubbing his scratchy stubble across our faces. He gave me books, an album for my stamp collection, and two-dollar bills with the corners torn off (racetrack money). He taught me to play Rook, and to always, always take the bid, because that is the way to win. Because he was missing about one inch of the middle finger on his right hand, we grandkids would ask what happened to it. Granddaddy would reply in all seriousness that a battleship had run over it, although sometimes he would say he had worn it off strumming a banjo. Altogether, he was a more than acceptable grandparent, and deeply loved.
As I filled in my ancestor chart, Granddaddy didn't actually lie to me about his parentage. He just let me assume that the name I had filled in for him was accurate. In fact, that name was one he had manufactured for himself in about 1921. He dutifully gave me the first names of his parents and grandparents (his mother was a Smith — not helpful to any genealogical search!), letting me assume that his father and paternal grandfather shared our surname. They did not.
After Granddaddy died of throat cancer in 1965, my aunts and I closely questioned Grandma about his family. Grandma was a tiny woman (4' 11", 100 pounds soaking wet, size 4 shoes), with brown eyes behind thick glasses, and a quietly determined manner. She liked working the newspaper's daily crossword puzzle, listening to mountain music on the radio, and the color purple. She would play games with us grandkids, and recite for us long story poems which she had memorized as a child in school. She crocheted large tablecloths for each granddaughter's "hope chest." We all adored our Grandma. She had never met any of Granddaddy's family, but gave us a collection of old pictures that he had kept. Granddaddy had very carefully erased some information from the backs of these pictures, but left a few clues:
My aunts organized a family reunion in 1983, and wrote a very nice family history called THANKS FOR THE MEMORIES. Their family lived at Dover, Arkansas between 1930 and 1934, which dates the following story:
"While we were living in Dover Daddy, a man named Mr. Tuck and another man went to New Mexico and Colorado to see about work. At least part of Daddy's family lived in Durango, Colorado, having settled there after leaving Tennessee where Daddy was born and after stopping in the Indian Territory (Oklahoma) and New Mexico. On the trip Daddy and his friends ran out of gas several times and gasoline trucks came by and filled up their tank for them. Also they helped themselves to corn in the fields along the roads, cooking it over an open fire. They camped out every night. Daddy saw his family and they had a dinner for him."
After Grandma's death in 1989, I began pushing harder to find more information about Granddaddy.
I obtained a copy of Granddaddy's Social Security Application from 1936. There were slight differences from the information he had given me in 1962, but nothing helpful. I traveled to the town given as his Place of Birth, in Tennessee, but found no trace of him or of his large family at the library or at the courthouse, nor among the records at Knoxville and Nashville. Since Social Security applicants were supposed to give proof of Place of Birth, I later came to believe that the clerk who took Granddaddy's SSA also took a small personal gratuity. Granddaddy was not born in Tennessee.
I traveled to the Casemate Museum at Ft. Monroe, Virginia, showed my picture of Granddaddy to David J. Johnson, the museum technician there, and got a report: "The 1909 photo depicts a private in the Coast Artillery Corps. I cannot make out the number on his cap insignia, which designates his unit (company). It appears to be a single digit. I looked through our unit records for 1907 – 1910 but could not find any mention...Possibly...he was merely visiting a friend here or was here for temporary duty."
Then, I posted a message on a genealogy site for La Plata County, Colorado, on their electronic bulletin board. In January of 2000, a researcher in that area contacted me. She found Granddaddy's sister (whose name we got from the picture of her daughter) and her husband, buried in a local cemetery. She then looked for Granddaddy's sister's marriage record, and later found the woman's parents buried in the same cemetery. She located the rest of Granddaddy's family in the 1910 census and other records. BINGO! This family's given names - but NOT their surname - matched those that we had.
This researcher put me in touch with Orella Chadwick, who had written a book in 1978, TRAILS TROD, about Granddaddy's birth family. Orella's father had an older brother, James, but the family had not seen him since 1933. These people hailed from North Carolina, but were living near Durango, Colorado at the time of the following story. Here is what TRAILS TROD says about "Uncle Jimmie":
It was probably the worst of the depression. One day a man came up the lane, a stranger, and not many strangers appeared over on our side of the tracks. We were all out in the yard and stood around as Mother talked to him. He asked for Daddy and Mother explained wherever he was and then he said, "I'm his oldest brother Jimmie." We were excited; we had heard of him, but never seen him because he was still so far as we knew in North Carolina. As soon as he said who he was we knew and saw the resemblance in those blue, blue eyes so like Daddy's. There was much rejoicing as though "the prodigal son had returned."

How the news traveled so fast and far I don't know but they had a big dance and feast for him. It seemed he was preaching and wasn't doing too badly because even in hard times people always find a few cents to give to anyone "bringing God's word."

Uncle Murray says, "He drank too much of the bootleg booze and was ashamed and when we got up the next morning he was gone and that is the last time we ever saw him."

He had left a wife and four or five foster children in North Carolina. Later I wrote to one of them, the eldest I think...She wrote, "I don't care if we ever see or hear of him again." There was so much bitterness in those few words that I felt sorry.
My aunts and I were stunned by these revelations from Orella, but they fit with everything we knew. The name of the wife Uncle Jimmie had left in North Carolina, listed in TRAILS TROD, is the same as the name of the well dressed woman with Granddaddy in his old picture. Orella's book even contained a copy of the picture Granddaddy had kept of his brother Levi, with his wife. This brother was Orella's father.
I traveled to North Carolina, checked census, vital and land records. Driving down a winding road, I stopped for directions. An old man invited me into his home, because the wind was bitterly cold. Every surface of his front room was stacked with newspapers and magazines which he would burn in his stove, the only source of heat. He cleared a space at the end of a couch for me. As I sat, talking to him, the hair rose on the back of my neck as I realized where I was. This man's house had been built on the foundations of the very cabin where Granddaddy had been born! Later, I returned with my aunt and daughter, and we walked to the cemetery behind the house, where Granddaddy's ancestors are buried.
I found out that one of Granddaddy's daughters from his first marriage, born about 1920, is named Vivian. My aunt, born to my grandmother in late 1921, is also named Vivian. Granddaddy must have liked the name. Another coincidence is that both of Granddaddy's wives died in the same year, 1989, a few hundred miles apart.
I wrote to the technician at the Ft. Monroe museum, asking for Uncle Jimmie's information, and received a report containing a physical description compatible with Granddaddy's appearance: Farmer, born North Carolina, fair skin, blue eyes, 5'4" tall, enlisted Jefferson Barracks, Missouri; Honorably discharged 13 May 1911 Galveston, Texas. There is no record that he ever took a leave or furlough during his entire term in the army, and the discharge report says "character excellent."
Having concluded that Uncle Jimmie and Granddaddy are the same person, I contacted his first family in North Carolina, but the bitterness remains a barrier between us.
In summer 2003 I attended a three day reunion, "Mother Cumberland — A Harvest of Memories," held in Shippensburg, Cumberland County, Pennsylvania. This unique event was open to anyone descended from Cumberland County residents of the 1700s. It was sponsored by the Brady Family Association, as well as by other historical and genealogical societies of the area. The site was a college campus. Over forty presenters offered classes on various genealogical topics, while re-enactors in period costumes staffed a frontier village. Fife and drum corps performed, and a very moving keynote speech was given by Donna Cuillard, who organized the event.
A representative of the Sorenson Molecular Genealogy Foundation was present at this reunion, taking DNA samples (cheek swabs) and ancestor charts from interested participants. On my chart, I listed Granddaddy with two names, using the abbreviation "A.K.A." for "also known as." For everyone above Granddaddy on the chart, I used his birth surname. For everyone below him, I used the surname he assumed in 1921.
In fall of 2004, I was contacted by the SMGF, and asked for clarification of the "A.K.A." notation on my chart. I was then asked whether our family wanted to use DNA testing to verify my granddaddy's relationship to Orella's family.
Subsequently, my father and Orella's brother (presumed by us to be first cousins) were tested by cheek swab. The results strongly indicate that these two men (who have never met, and who now live at opposite ends of the United States) share a male ancestor within a very few generations. The time from testing to results was slightly over one month.
I only dimly understand the science of the testing, but I'm satisfied that my quest to identify Granddaddy has reached an accurate conclusion. I have plans to meet Orella soon and to go ancestor hunting with her in Pennsylvania; it should be great fun. What are we seeking? Granddaddy and Orella's father had a youngest brother, Grady, who is lost to us. Perhaps we will find him, and there are ALWAYS more ancestors...
What does my family gain from all this? We have a deeper understanding of who we are and how we came to be this way. We have more sympathy for our ancestors and their frailties, more pride in their accomplishments. All of us do the best we can, and we love each other.
Bonnie L. Schermer is a writer of historical fiction. She has published three fictionalized biographies of her ancestors, and has a website: https://hysterical-fiction.net
e-mail: